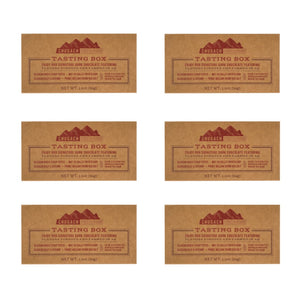 Size: Six boxes of our 1.2 oz Tasting Box (each tasting box contains eight different flavors of our chocolates).
Description: Enjoy six boxes of our signature dark chocolate featuring flavors foraged and farmed in Alaska. Eight 1"x1" pieces of chocolate per box including 1) Alaskan Birch Syrup Toffee, 2) Alaskan Kelp and Cayenne, 3) Prince William Sound Sea Salt, 4) Espresso Beans, 5) Mat-Su Valley Potato Chips, 6) Pink Himalayan Salt, 7) Single Origin - Madagascar, 8) Single Origin - Fiji.
Ingredients: Dark Chocolate (sugar, chocolate liquor processed with alkali, chocolate liquor, cocoa butter, butterfat [milk], soy lecithin and vanilla), Cacao Beans, Sugar, Birch Toffee (butter (pasteurized cream [milk], salt), sugar, birch syrup, light corn syrup (corn syrup, salt, vanilla extract (vanilla beans, water, ethyl alcohol)), Potato Chips (potatoes, peanut oil and/or safflower oil, salt), Arabica Coffee, Salt, Kelp, Cayenne Pepper.