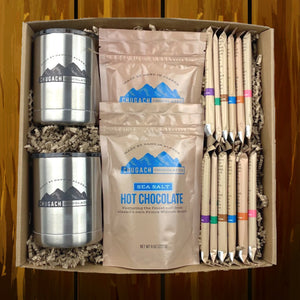 Includes:
Twelve pack of our six signature chocolate bars (two each)
Two bags Sea Salt Hot Chocolate
Two Yeti 10 oz Rambler Lowball Chugach Chocolates Branded Mugs
Description: The Chocolate and Mugs Gift Box has everything you need to treat your favorite chocolate-loving adventurer! Included in the gift box are two each of our six signature chocolate bars (Himalayan Sea Salt, Alaskan Birch Syrup Toffee, Prince William Sound Sea Salt, Alaskan Kelp and Cayenne, Mat-Su Valley Potato Chips, and Espresso Beans), and two bags of Sea Salt Hot Chocolate. Also included are two Chugach Chocolates branded Yeti 10 oz mugs. We've tested many a mug, and these Yeti mugs are far and away our favorites. We know you or your gift recipient will love them too. After all, if you are going to drink the best hot chocolate on the planet, you should be drinking it from the best travel mug on the planet!
Ingredients: See individual products for ingredient details.