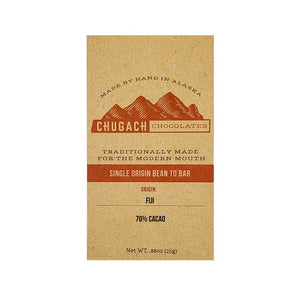 Size: .88 oz (25 g)
Description: Our Fijian beans are from Cacao Fiji , a central fermentary that processes only from the Forastero Amelonado cacao tree.  We make all our single origin bean to bar chocolates the same way, which means the same roast profile (lightly roasted), the same 70% cacao, and all a pinch of salt, so that the tasting notes of local influences can shine.
Tasting Notes: Dried Fruit, Nuts, Vanilla
Ingredients: Cacao beans, Sugar, Salt.