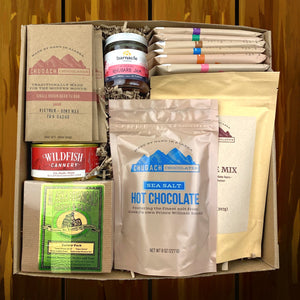 Includes:

Six pack of our six signature chocolate bars (one of each)
Three pack of our single origin bean to bar chocolate bars 
One bag Sea Salt Hot Chocolate
One bag Brownie Mix
One box Alaska Botanical Herbs and Tea variety pack
One can Wildfish Cannery Smoked Salmon
One bottle Barnacle Foods Rhubarb Jam
Description: For our Alaska Sampler Gift Box, we combined our favorite chocolate products with some of our favorite products from our fellow Alaska specialty food makers. For our chocolates, our philosophy isn't just to make chocolates, it's to make damn good chocolates. And, we used the same philosophy in sourcing other food products. Included in this box are one each of our six signature chocolate bars (Himalayan Sea Salt, Alaskan Birch Syrup Toffee, Prince William Sound Sea Salt, Alaskan Kelp and Cayenne, Mat-Su Valley Potato Chips, and Espresso Beans), three of our single origin bean to bar chocolate bars (origin of each rotates depending on availability), a bag of our Brownie Mix, and a bag of our Sea Salt Hot Chocolate. We also have a box of teas from Alaska Botanical Herbs and Teas, who is based in Homer and grows and forages various herbs and combines them together and with black tea; a brilliant red fleshed Can of Smoked Sockeye Salmon from Wild Fish Cannery in Klawock (on Prince of Wales Island in Southeast Alaska), who use drift net harvested salmon from local fisherman (meaning the fish are processed one by one on the boat as soon as they are caught, instead of hours or days later at a large processing plant, and the difference in processing makes a huge difference in taste); and a bottle of Rhubarb Jam from Barnacle Foods in Juneau, who use local rhubarb for their sweet and slightly tart rhubarb jam. 


Ingredients: 
See individual 
products
 for ingredient details.