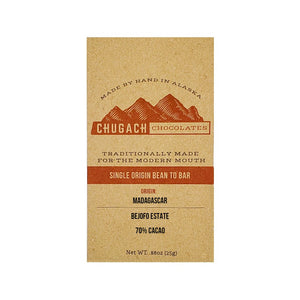 Size: .88 oz (25 g)
Description: Our Malagasy beans are from Trinitario cacao trees on the Bejofo Estate in the Sambirano Valley of Madagascar.  This 70% dark chocolate bar is made only with Malagasy cacao beans, sugar, and a pinch of salt so the tasting notes of citrus and red ripe fruit can shine.
Tasting Notes: Citrus, Red Ripe Fruit
Ingredients: Cacao beans, Sugar, Salt.